Service & maintenance
Our team of experts services your machine, to ensure that you never run out of your favorite beverage. Weekly maintenance visits: we restock, refill, clean, and maintain the machines, so you don't have to. We will repair or replace the machines within 48 hours.
Three pillars of our services Equipment
Wittenborg 9100
The Wittenborg 9100 does not only feature high-quality drinks but also a user-friendly touch screen technology to set high standards.
The 9100 is the latest generation of Wittenborg vending machines, a further leap forward in design. It offers a wide specter of high-quality selections and choices based on various drink technologies.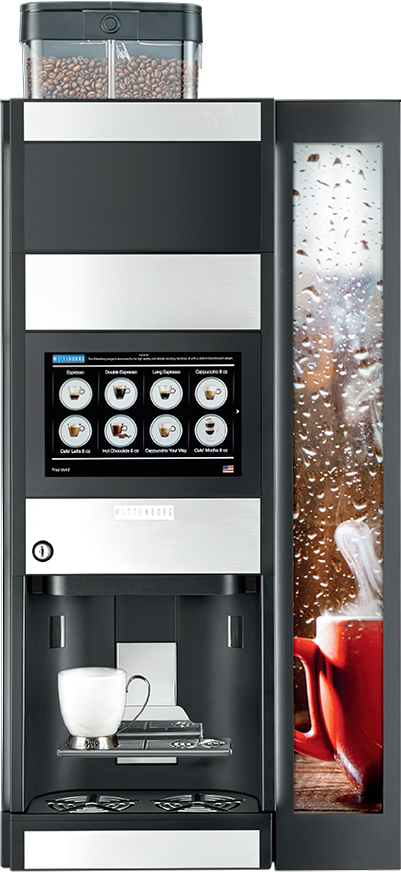 Bravilor Esprecious
Esprecious bean to cup machine is perfect for environments with high volume use and a demand for exquisite coffee. This coffee machine is both innovative and excels in terms of functionality.
Offering a range of options, Bravilor Esprecious can deliver satisfying latte's, delicious hot chocolate, or even cappuccino or mochaccino at the touch of a button.
Bravilor Sego
Sego is a fully automatic espresso machine. Espresso's, coffee's and specialty drinks are brewed to perfection using fresh coffee beans and instant ingredients such as topping (powdered milk) and cocoa.
Using these instant ingredients and the coffee beans of your choice, you can serve various drinks like Coffee Crema, Latte, Cappuccino, Espresso, Mocha, Americano, Latte Macchiato, Moccachino, Hot chocolate, and Hot chocolate Deluxe and naturally, you can offer hot water too.